The digital ecosystem we're evolving with Co-op comprises 'The Hub' intranet, the public website (www.fcl.crs), as well as member and retailer accounts (work in progress). As a result, there's more dialogue between employees across Western Canada. Ideas, knowledge, information and experiences are friction-free. Geographic, temporal and structural barriers have been eliminated. Communities of Interest have formed and are driving innovation and raising standards of excellence. Meanwhile the public website extends Co-op's brand identity. And customer profiles for almost 2 million Co-op members (as well as the mass of non-members) are being created. This new Co-operative Relationship System, as it were, will continue to extend and deepen the relevance and value of Co-op today and tomorrow.
Because Co-op means connectivity
We at Co-op are in an era of growth, and have been for many years. To promote our progress we refreshed our branding in 2015. It was a moment to show our fierce dedication to the common wealth of our members and their communities. Then we renewed our commitment to our various Communities of Interest. We wanted to stimulate dialogue. We wanted to simplify the way employees engage and share experiences and ideas — anytime, anywhere, with anyone in the federation. We believe that an open exchange of knowledge and information keeps Co-op relevant, innovative and sustainable. We believe interactive technologies extend and enrich our co-operative capital. So, the question was how to put this belief into practice.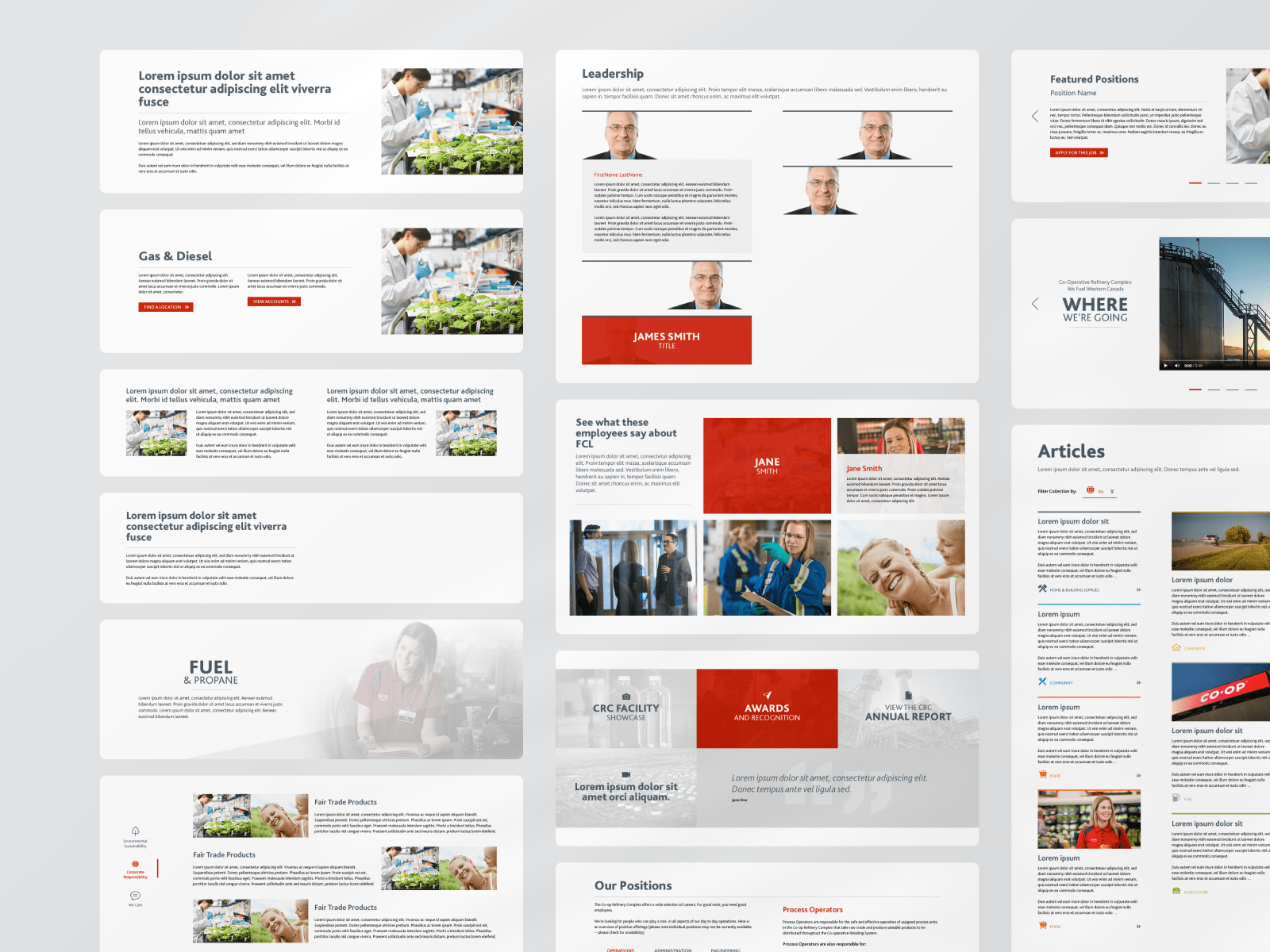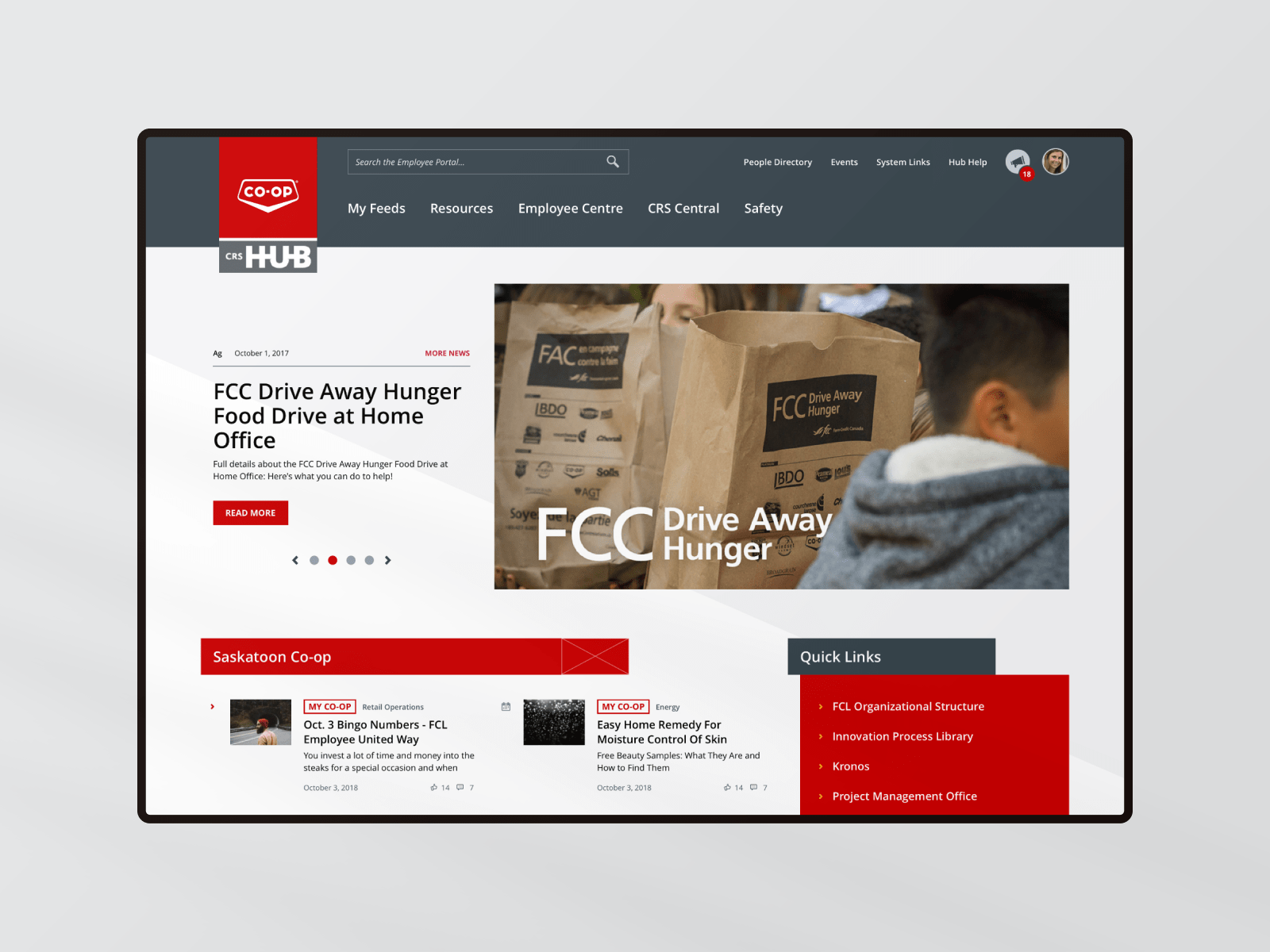 With a digital platform made to inspire collaboration
To our delight, Chapeau! started out by getting to know our employees and retailers. Chapeau! called it 'the retail tour.' It took their design team through our Co-operative Retailing System (CRS) which comprises over 150 retailers that employ some 22,000 people. By listening and observing, Chapeau! formed a solid basis for Co-op's new 'Hub,' the intranet that continues to form constructive connections between employees across the West. And with insights derived from this work, Chapeau! designed Co-op's public website (fcl.crs) and re-energized our digital identity as the co-operative of co-operatives. Then, to safeguard this investment and its design integrity, Chapeau! helped us build a new Dev Ops team, and establish data governance protocols to protect and secure our information. Today Chapeau! is creating digital profiles for Co-op members and non-members alike so we can know and serve Western Canadians better and better. And there's more to come as Chapeau! helps Co-op evolve and grow through our employees, members and communities. Our era of growth continues. The best is yet to come.
So we're growing, thanks to rich cross-Co-op communication
Some call it humanomics. And it's about care. We continue to extend and deepen our key co-operative driver: To nourish community, sustainably and democratically. Keywords: extend and deepen. They are what Chapeau! has brought to our community table. In the end Chapeau! has expanded the very definition of our Co-operative Retailing System. Thanks to Chapeau! CRS can also mean Co-operative Relationship System. It's a platform designed to extend and deepen inter-relationships throughout Co-op. A new view of the tried-and-true CRS: This is the level of design thinking Chapeau! consistently delivers.
Co-op members
That's 1,970,000 members